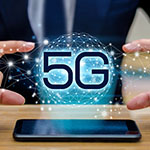 The FCC today released the names of companies that won licenses in the recently completed auction of spectrum suitable for 5G deployments in the 24 GHz and 28 GHz millimeter wave bands. The biggest 5G millimeter wave auction winners were AT&T, T-Mobile, Verizon, Windstream, Starry and U.S. Cellular. Each of those companies won at least 100 licenses, but numerous other companies won at least one license.
All major mobile carriers ultimately are expected to deploy 5G service in millimeter wave bands, as well as in lower-frequency bands. The advantage of the millimeter wave bands is that broad swaths of spectrum are available in these bands, enabling carriers to support the highest broadband speeds (albeit over relatively short distances). AT&T and Verizon already have millimeter wave holdings but wanted more.
Millimeter wave spectrum also can support high speeds for fixed wireless service; hence the participation of companies such as Starry and Windstream that are likely to use the spectrum for fixed services.
As previously reported, the two auctions combined raised a total of about $2.7 billion.
5G Millimeter Wave Auction Winners
The 28 GHz auction, known as Auction 101, included licenses for only a portion of the U.S. and excluded many metropolitan areas, where the spectrum is held by Verizon. That carrier apparently wanted to augment those holdings, as it was the biggest winner in Auction 101, picking up 1,066 licenses for 863 markets.
Two licenses (each for a broad 425-MHz swath of spectrum) were issued per county. Some carriers, including Verizon, apparently won both licenses in some areas.
Verizon also won a relatively small number of licenses in the auction of 24 GHz spectrum known as Auction 102 – nine licenses in five partial economic areas (PEAs).
The U.S. has just over 400 PEAs, and Auction 102 included seven licenses per PEA, with each license including a 100-MHz band of spectrum.
T-Mobile won 865 licenses in 864 counties in Auction 101. That carrier also won 1,346 licenses in 400 PEAs – at least one in almost every PEA — in Auction 102. Doing the math reveals that the carrier will have an average of more than 300 MHz of 24 GHz spectrum nearly nationwide.
This is important for T-Mobile, as the company did not previously have any millimeter wave holdings – and when it comes to supporting higher speeds, the broader the spectrum, the better.
Sprint reportedly bid under the name ATI Sub LLC in Auction 102 (Sprint never responded to an inquiry from Telecompetitor asking the company to confirm that), but that entity didn't win any licenses. Sprint does have broad holdings of mid-band spectrum that it plans to use for 5G, however, and if the carrier is allowed to merge with T-Mobile, their spectrum holdings will be combined.
AT&T's 5G millimeter wave winnings were all in the 24 GHz band, where the company won 831 licenses in 383 PEAs, or an average of just over 200 MHz per PEA, which will augment that company's existing millimeter-wave holdings.
Beyond the Big Four
Of the other big 5G millimeter wave auction winners, U.S. Cellular won 408 licenses in Auction 101 for 362 counties, and 282 licenses in 102 PEAs in Auction 102, while Windstream won 106 licenses for the same number of counties in Auction 101 and 116 licenses in 40 PEAs in Auction 102. Windstream has indicated ambitious plans for fixed wireless at speeds as high as a gigabit per second using millimeter wave spectrum.
The most unconventional of the big winners was Starry, a recent startup that is also pursuing 5G for gigabit fixed wireless. Starry won 104 licenses in 51 PEAs in Auction 102.
Numerous rural wireless carriers, including many names that will be familiar to Telecompetitor readers, also were among the 5G millimeter wave auction winners. Some wireless internet service providers, also focused primarily on rural areas, also won spectrum. A complete list of winners in Auction 101 and Auction 102 can be found on the FCC website.