As 5G becomes more commonplace, it will increase global gross domestic product (GDP) by $8 trillion by 2030, according to a 5G economic forecast from Nokia. A $4.5 trillion investment in 5G and related technologies will support this growth, researchers said.
Nokia uses the term "5G+" to encompass 5G and related technologies including edge cloud infrastructure, private networks, augmented intelligence, automation, sensing and robotics, as well as platform and as-a-service business models.
Contributors to the Nokia report, titled "5G Business Readiness Report," included several high-ranking Nokia and Nokia Bell Labs executives and two futurists.
The report also was based, in part, on a survey of technology purchasing decision makers in key industries in eight countries, including the U.S. And the impact that 5G is likely to have on business and industry is a key focus of the report.
5G Economic Forecast
An important trend impacting Nokia's 5G economic forecast is various industries' investment in information and communications technology (ICT). This is critical because 5G+ technologies will represent an increasing percentage of ICT spending moving forward.
Although only a small fraction of ICT spending goes toward 5G+ technologies today, 5G+ will represent the majority of ICT spending within six or seven years, according to the Nokia 5G economic forecast. By 2030, 5G+ technologies will represent $4.5 trillion of total ICT spending of $6 trillion.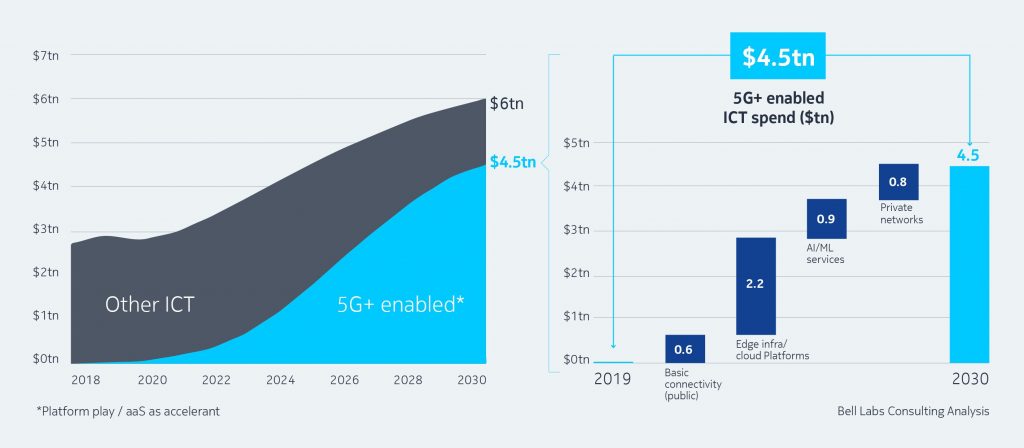 Industries that Nokia considers "digitally mature" have been investing the most in ICT, but that's set to change, according to the report.
"With several years of strong ICT spend—during which digital industries outspent physical industries 70:30 in spite of having only 25% of the workforce and only 30% of GDP contribution – digital industries have attained a level of digitalization maturity that enabled them to meet the COVID-19 challenge aggressively."
Digitally mature industries include communications and media, banking and securities and insurance, while "physical lagging" industries that underspend on ICT include construction, agriculture, mining, wholesale trade, live performance arts and entertainment and accommodation and food services.
In between are "physical leading" industries such as manufacturing, healthcare, transportation, retail, education, government and utilities. Those industries have achieved a "moderate level of digitization, with strong potential to improve significantly," according to the researchers.
While overall ICT spending is forecast to grow 6.5% annually over the next decade, physical industries will see a 40% greater increase in comparison with digital industries, according to the report.
The authors don't fully explain why they expect to see this change. But certain other data from the 5G economic forecast report offers clues about why this might come to pass.
For example, the report classifies companies responding to the survey based on their level of 5G maturity, which in turn was based on answers to questions about each company's attitudes toward 5G and the progress the company had made in adopting the technology.
Companies that are 5G mature are growing "considerably faster" in comparison with their peers, the authors noted. According to the report, 49% of organizations in the 5G expansion phase and 37% in the implementation phase said their organization achieved rapid growth last year. In comparison, only 20% of companies in the 5G planning phase, 11% of companies in the discovery phase and 5% classified as "passive" experienced rapid growth last year.