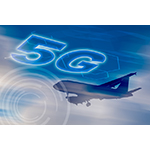 Gogo says that Cisco, Airspan and FIRST RF will be strategic partners to its 5G aviation system and network. Gogo's new air-to-ground (ATG) 5G network will be designed for use on certain aircraft operating within the contiguous United States and Canada. Gogo expects the nationwide network to be available in 2021.
Gogo will build the 5G network on its existing infrastructure , which includes more than 250 towers, and will use unlicensed spectrum in the 2.4GHz range, along with a proprietary modem and advanced beamforming technology. Gogo will continue to operate its 3G and 4G networks throughout the continental U.S. and in Canada, which will provide backup to the 5G network when needed.
Cisco will provide the core network platform for the entertainment and connectivity initiative. Airspan will provide its Air5G virtualized-RAN base station technology that features the increased capacity of Massive MIMO antenna arrays. Gogo also will have access to Airspan's advanced beamforming and tracking techniques that can provide 5G-based enhanced mobile broadband to an aircraft traveling at more than 750 miles per hour. This provisioning can be done over a long range.
FIRST RF will provide advanced antenna and RF systems for Gogo's existing 3G and 4G and the emerging 5G networks. The offering features belly-mounted airborne multi-band antennas that will link Gogo's onboard and ground networks. This includes complex multi-band apertures, advanced bream forming and phased arrays.
The announcements were a step in Gogo's long term plan, according to Sergio Aguirre, president of Gogo Business Aviation. "When we announced we were going to build a 5G network for aviation, we stated that we would leverage the expertise of U.S.-based companies to help us bring it to life," he said in a press release. "The three partners we're announcing today are on the leading edge of wireless network technology and together we will bring the most capable network and systems in aviation."
Gogo made news three years ago when it announced a next-generation aviation communications platform that would enable 100 Mbps connectivity.
In flight passenger communications has been a tricky issue over the years due to concerns about security and potential interference with ground to air communications. In February, the Seamless Air Alliance, whose mission is to promote next-generation inflight connectivity, said that its membership had increased five-fold since its first meeting the previous June. It also noted that it had a new research lab and working groups writing specifications for technology, requirements and operations.