Sales of 4K Ultra High Definition (4K UHD) TV sets are on the rise as prices decline, supply increases and a wider variety of screen sizes and new features, such as High Dynamic Range (HDR) and Wide Color Gamut (WCG), are introduced, according to the CTA (Consumer Technology Association). A 4K UHD forecast from CTA calls for an additional 4.5 million units to be shipped in the U.S. this holiday season, 45 percent of an expected annual 2016 total of 10 million units, CTA predicts. That's down from an original prediction of 14.5 million.
CTA attributes the downward revision to 2Q data that revealed a slowdown in production as OEMs geared up production lines to incorporate new 4K UHD models.
"We also expected to see TV manufacturers move more quickly to a greater mix of 4K in screen sizes above 40 inches, which now appears to be shaping up as a 2017 trend," commented CTA senior director, Market Research Steve Koenig.
4K UHD Forecast Drivers
The average wholesale price of 4K UHD TV sets has dropped 22 percent since January even as new HDR-compatible and other types of sets with new features are introduced. That's spurring greater consumer demand and helping make 4K UHD TVs one of the most desired holiday CE gifts, following notebook computers and tied with smartphones, CTA highlights.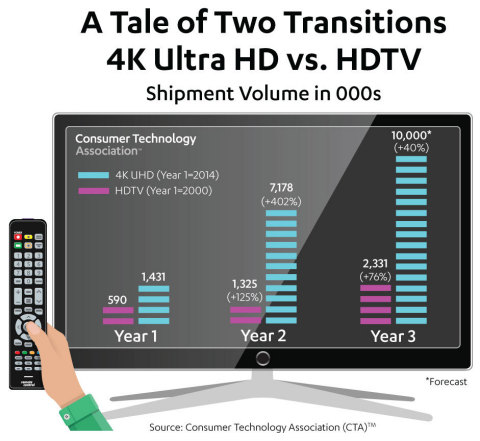 4K UHD TV sales have increased 40 percent year-over-year thus far in 2016, making 4K UHD TV sets one of the fastest growing product segments. CTA expectss 4K UHD TV sales will account for 56 percent of overall TV set sales in 4Q, which would add momentum to a steadily rising trend that's moving 4K UHD TV sets towards 50 percent of annual TV set sales.
Also of note, the 1 millionth 4K UHD Blu-ray disc was sold in October. Consumer sales revenue now exceeds $25 million, according to market data from the Futuresource.
"We've been bullish about 4K UHD since day one, and market growth continues to justify our enthusiasm," said Gary Shapiro, CTA president and CEO. "Manufacturers are introducing an increasing variety of 4K UHD displays at a range of price points.
¨Many of these displays include new innovations like HDR and WCG that make the viewing experience more immersive. Strong growth in display sales, combined with the increasing number of 4K UHD Blu-ray discs and other content, 4K cameras, and additional devices in the market will cement 2016 as a 'banner year' for 4K UHD."