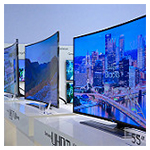 Viewing of 4K UHD video via OTT services is poised to soar over the next five years, according to a 4K OTT video penetration forecast from Juniper Research.
More than 189 million unique users worldwide will tap into 4K OTT services to view content by 2021, according to Juniper Research's ¨Digital TV & Video: Network and OTT Strategies 2016-2021.¨ That's way up from 2.3 million this year.
Put another way, one in 10 Americans will be watching 4K video via OTT video as compared to just one in 500 this year, Juniper highlights in a news release. Much more in the way of 4K content and a wider choice of viewing options, including smartphones and tablets, as well as PCs and smart TVs, will fuel adoption, Juniper says.
4K OTT Video Penetration
Lack of 4K content has been the main bottleneck constraining 4K UHD viewing. Amazon, Netflix and YouTube are among the leading OTT video services that offer some 4K content. In addition, Sky Q launched a 4K OTT service in the U.K. this year. Generally speaking, providers have been waiting for a critical mass of content to accumulate before launching 4K content, however, Juniper points out.
Lack of 4K streaming devices has been another barrier to market growth. 4K set-top boxes (STBs) from Amazon and Roku have proved very popular, but availability is limited from an overall market perspective. Juniper believes the introduction of new 4K streaming devices, such as this month's launch of the Xbox One S, will give the market a boost.
Looking further ahead, Juniper notes that there is one 8K TV set on the commercial market. Priced at $133,000, the next generation of UHD technology is far away from reaching the mainstream, however.
Japan intends to broadcast the 2020 Olympics in 8K, which will present an opportunity to drive initial sales of 8K smart TVs. According to Juniper's ¨Digital TV – Skinny Bundles and Cord Shaving¨ whitepaper, 8K smart TV shipments will grow more than threefold between 2020 and 2021 and reach over 400,000 per year by the end of the forecast period.
In related market research released earlier this week, a survey of industry participants conducted by SNL Kagan and Irdeto revealed that more than 6 in 10 video service providers (64%) and 7 in 10 content producers (73%) said they believe viewers are willing to pay 10-30 percent more for subscriptions that deliver 4K UHD content. The research partners found that survey participants believe most pay-TV and OTT video providers and subscribers will have adopted 4K TV by 2020.
Image courtesy of flickr user Kārlis Dambrāns.