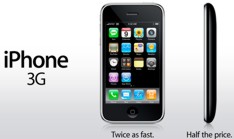 Apple CEO Steve Jobs confirmed the long rumored launch of the 3G version of the Apple iPhone today. Today's 3G iPhone news is not so much of a surprise, but its new pricing might be. The new 3G iPhone will come in two models, 8 and 16 GB models, costing $199 and $299 respectively. That's a significant drop in price over the previous cheapest iPhone model of $399. The new pricing reflects a revised partnership agreement between AT&T and Apple. Under the new terms, AT&T will not share iPhone monthly service revenue with Apple, but will subsidize the handset purchase, resulting in the lower costs. The new pricing will be offered based on a two year service agreement with AT&T. The new iPhone will be available July 11th.
The price drop will certainly put competitive pressure on iPhone's rivals, including the venerable BlackBerry and smartphones running Microsoft's Windows Mobile operating system. The iPhone has demonstrated already that it is a powerful player in the smartphone market and this price drop will surely strengthen its impact. RIM's BlackBerry has held its ground quite impressively against the iPhone. But the added features of the new 3G iPhone, which also includes GPS functionality, and a lower price will up the competitive ante with BlackBerry.
AT&T might also see a tangible bounce in subscriber additions due to this new 3G iPhone pricing strategy. AT&T Wireless CEO Ralph de la Vega said in a statement, "…The device is built, and priced, to sell." They are looking for "mass market" appeal. It may provide enough incentive for hundreds of thousands of additional Sprint customers, who are already leaving Sprint at the pace of 1 million+ per quarter, to churn over to AT&T. The biggest knock on AT&T and the iPhone was lack of true broadband wireless speed. With that barrier removed and this aggressively priced 3G iPhone, look out Sprint.