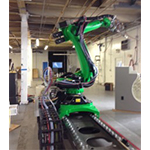 The global market for 3D printing will reach $32.3 billion by 2025, according to a new 3D printing forecast from Transparency Market Research. Market growth will average 18% annually between now and then, researchers said. Last year the market was worth $7.3 billion, they said.
The strong forecast for 3D printing should be of interest to municipalities and network operators pursuing or contemplating high-speed broadband deployments, as some 3D printing applications demand high bandwidth to support the transfer of huge data files. Several start-up businesses with a strong emphasis on 3D printing have located in Chattanooga, one of the first cities to get gigabit broadband, because they were attracted by the excellent broadband connectivity.
Initially skeptics felt gigabit deployments were overkill, but 3D printing is just one example of how entrepreneurs have found ways to use gigabit bandwidth.
3D Printing Forecast
North America is the strongest market for 3D printing, according to the TMR 3D printing forecast. Researchers estimate the North American 3D printing market at more than $3 billion for 2017.
The strong growth in 3D printing will be driven, in part, by ongoing innovation from increased competition, researchers said. "[T]he global 3D printing market is heavily dependent on research and development of new techniques that can add value to diverse end use industries," noted a press release about the TMR 3D forecast.
Other highlights of the TMR research:
The market is distributed among a vast number of large and mid-level vendors and will remain fragmented.
A few companies that do hold a position of strength include Stratasys, EOS GmbH and Solidscape.
Fuel deposition modeling (FDM) and polyjet are the most widely used 3D printing technologies. FDM is less costly and therefore more popular in the personal use market. Polyjet is stronger in the commercial market.
One of the most profitable application categories is consumer products. The automotive category also is highly profitable.
Ongoing technological innovations such as the incorporation of new materials and surface enhancement of the final model are expected to expand 3D printing applications.
Other positive factors include ease in the development of customized products, reduction in manufacturing cost and government investments.
Factors restraining growth include the high cost of materials, reduction in manufacturing cost and the lack of a standard process control.