Three dozen universities have joined the ranks of Xfinity on Campus, bringing the total number enrolled in Comcast's cable broadband and video service to 63.
Including the University of Michigan, University of Notre Dame and University of Pennsylvania, the 36 that joined recently is eight times more than the number Comcast launched the service with in 2014, VP, Video Subscription Services in TV Mike Gatzke highlighted in an Aug. 30 post on the Comcast Voices blog.
According to market research, some three-quarters of Millennials stream TV shows or movies at least once a month, Gatzke points out. That makes college and university campuses and students attractive business prospects.
"The days of students and parents lugging TVs up flights of stairs are part of the past," commented John Wall, Director of Media Relations at new program participant Juniata College. "Comcast's new service offers student ease of use on all their technology."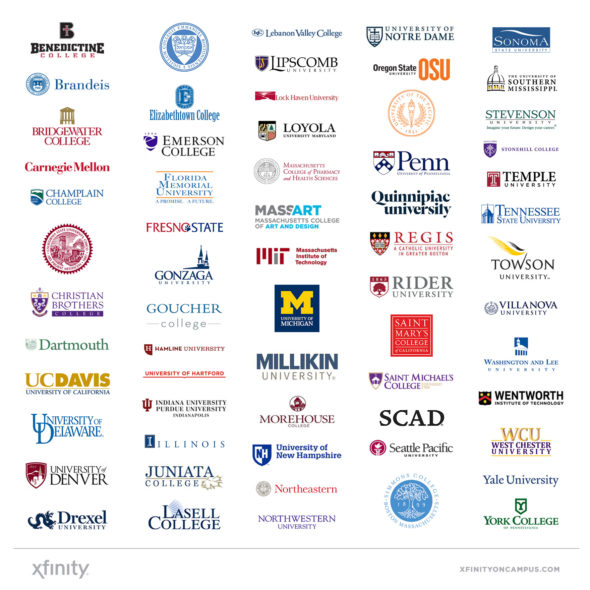 Along with announcing new Xfinity on Campus partners, Comcast noted that it has improved the product. A cloud DVR service that enables subscribers to store up to 20 hours of video content has been added at no additional charge. Comcast also has consolidated all the services offered on one Xfinity TV app.
"We recognize the importance of providing our students with innovative technologies that enhance their time outside of the classroom," Mayumi Hirtzel from University of Pennsylvania's Information Systems & Computing Department explained. "The Xfinity On Campus service is one of the latest amenities we have provided to make our students' campus experience more convenient and enjoyable."
Comcast is leveraging the advantages of the latest DOCSIS 3.1 cable video network technology as it improves and expands niche market pay-TV and TV Everywhere services such as Xfinity on Campus, as well as broader based offerings.
The cable MSO/ISP last December announced it launched what it believed was the world's first customer-facing DOCSIS 3.1 network in Philadelphia.
Earlier this month, Comcast announced it had rolled out Gigapower service in Chicago. Using DOCSIS 3.1 enables Comcast and other cable pay-TV service providers to deliver faster, higher capacity digital TV and other services over its existing HFC network.