Zayo Group Holdings is continuing its growth through acquisition, announcing today that it has entered into an agreement to purchase substantially all of the assets of Neutral Path Communications and Near North Partners for $31.5 million. The Zayo Neutral Path purchase will add 452 owned plus additional leased route miles to Zayo's extensive North American network.
Neutral Path is a long haul infrastructure provider, operating a fiber network in the Midwest, including a unique, high-count fiber route from Minneapolis to Omaha. The assets are highly complementary to Zayo's Midwestern long haul dark fiber footprint, according to Zayo.
Zayo Neutral Path Purchase
As a result, Zayo will be able to sell multi-city dark fiber and fiber-based lit solutions from Minneapolis into Omaha, extending to Denver, Kansas City, Tulsa, Dallas, Des Moines, Chicago and other major markets. The network was architected to provide convenient options for carrier backhaul (both wireline and wireless) from the cities along the route to further enable broadband expansion in this area of the country.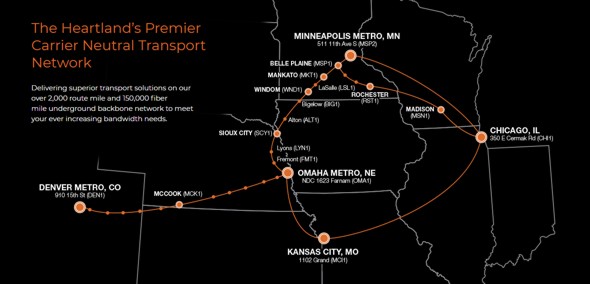 "This is another example of executing on our 'tuck-in' strategy, acquiring companies that add strategic assets that we can leverage immediately," said Jack Waters, CTO and president of fiber solutions at Zayo, in a prepared statement. "Based on expressed customer demand, we're confident we will quickly be able to pursue the robust funnel of sales opportunities and grow the revenue base on these assets."
We reported earlier this year that Zayo had launched its Zayo SD-WAN solution, an integrated extension of Zayo's fiber-based IP/MPLS backbone offerings designed to make enterprises' networks easier to manage, improve performance and enhance reliability. The latest acquisition enables Zayo to further extend its SD-WAN offering.
Neutral Path is expected to generate $2.1M in annualized EBITDA for the quarter ended March 31, 2018. Zayo expects to achieve approximately $600,000 in annualized cost synergies within four quarters of the acquisition closing date.
The transaction is expected to close in the second calendar quarter of 2018, subject to regulatory approvals and customary closing conditions. The purchase price is subject to net working capital and other customary adjustments, as well as a contingent payment based on sales performance through June 30, 2018.