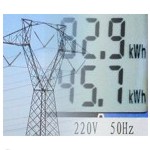 Carrier plans to re-farm 2G spectrum to support 4G may not have a big impact on mobile voice and data users, who typically like to upgrade their devices every year or two anyway.  But 2G spectrum re-farming could have a much more negative impact on the m2m market, in which many end users rely on 2G for communications to and from smart sensors and other devices that are normally expected to last up to eight to 10 years.
The operator of one wireless network dedicated to m2m communications is predicting a "big shakeup for m2m" – specifically involving as many as 10 to 15 million m2m devices that use 2G GSM communications known as GPRS.
For several years, Syed Zaeem Hosain, chief technology officer for Aeris Communications, has been arguing that by 2015, 2G GSM will be unacceptably poor performing in big cities in the U.S. because of rising wireless traffic levels. In a recent interview, Hosain was even more pessimistic.
"My belief is that by 2013 or mid-2014, 2G GSM in major [U.S.] cities will be non-existent," said Hosain. "If AT&T can get Verizon spectrum, that may delay it."
Hosain said he does not envision the same sorts of problems for CDMA networks such as those operated by Sprint and Verizon because those networks use spectrum more efficiently.
The Aeris network operates on one-way roaming agreements with facilities-based carriers. Although it has no radios of its own, Aeris does have other network elements, including database technology that supports sophisticated routing capabilities.
It's worth noting that Aeris relies largely on CDMA technology and stands to benefit from GSM problems. Nevertheless Hosain has evidence to back up his arguments.
He notes, for example, that at the time AT&T was considering a merger with T-Mobile, the company argued that it needed the T-Mobile spectrum in order to continue operating 2G, 3G and LTE networks.
And since merger plans were defeated, AT&T has sent letters to some customers with 2G devices in the New York City area advising them to upgrade their devices because their "older-model 2G phone might not be able to make or receive calls and you may experience degradation of your wireless service in certain areas."
GSM Carrier Plans
Telecompetitor checked in with the two major GSM carriers – AT&T and T-Mobile – about any plans to shut down 2G. A T-Mobile spokeswoman wrote in an email to Telecompetitor that the company "will be re-farming a portion of its 1900 MHz spectrum" — the band in which the company has deployed GPRS —  "to support HSPA+ service." Plans include re-farming a large number of markets by the end of 2012, the spokeswoman said.
She added, however, that "T-Mobile will continue to support its 2G customers." Over time, she said, "we will reduce the spectrum allocated to GSM to a very small amount (<10 MHz), which will free up most of the PCS spectrum for HSPA+."
AT&T, however, does not comment on any plans involving a 2G shutdown.
Hosain believes AT&T faces a bigger spectrum crunch than T-Mobile faces – and that wouldn't be surprising, considering that T-Mobile gained spectrum from AT&T when the merger failed as a condition of the merger agreement.
Kurt Hochanadel, product marketing manager for m2m equipment manufacturer Eurotech is more optimistic than Hosain about the impact of GSM 2G spectrum re-farming on the m2m market, but he too sees a transition ahead.
Hochanadel sees 2G GSM being supported at least through 2020 – at least by T-Mobile. But he believes AT&T will be phasing out the service before T-Mobile. He added that it is his understanding that AT&T is no longer approving 2G devices for use on its network.
"Companies using GPRS will have to swap devices or swap carriers and then devices," predicted Hochanadel, adding that "knowledge is slowing spreading" about the impending challenges.
Hochanadel said m2m customers typically expect to get eight to 10 years of service from a wireless device. As carriers begin to re-purpose 2G spectrum, it "might push some things to happen a little quicker" but GPRS usage "won't fall off a cliff either."
Another consideration is that AT&T has deployed 2G in both the 800 MHz and the 1900 MHz band, while T-Mobile has only deployed 2G at 1900 MHz. But Hochanadel said many m2m GPRS components operate at both 800 MHz and 1900 MHz.
The impact on m2m
As the m2m industry begins to pursue alternatives to 2G GPRS communications, they are likely to find device costs rising considerably.
While the components required to put 2G GSM on an m2m device cost as little as $10, Hochanadel said 4G components cost as much as $120 and 3G components cost as much as $40 to $90, depending on the form factor. Even 2G CDMA components are more expensive than 2G GSM components because of the Qualcomm chipsets required for CDMA, Hochanadel said – although he noted that "It's not as big as difference" as there would be between a 2G and 3G solution.
Many m2m devices are designed for specific customers to meet specific applications and in some cases may have to be redesigned to support later-generation wireless communications, which means m2m users also must consider replacement times as well as replacement costs.