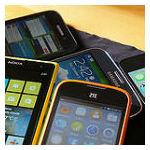 A 2019 smartphone forecast from International Data Corporation (IDC) calls for the smartphone market to grow at single digits — a trend that will continue through 2022 after a slight decline this year.
In 2018, the research firm expects smartphone shipments to drop 0.7% to 1.455 billion units, down from 1.465 billion in 2017, with the decline in the first half of the year too high to be overshadowed by an expected increase in the second half of the year.
2019 Smartphone Forecast
Larger screens – driven by higher aspect ratios — will power the growth over the forecast period, according to IDC. The higher aspect ratios have moved into lower-priced phones, including some below $200. IDC expects two of the new iPhones launched this fall to be above six inches, providing an important catalyst to support the trend to larger screens.
"With two out of three new iPhones expected to be larger than 6 inches, Apple will not be left behind in the 2018 race for increased screen real estate," said Melissa Chau, associate research director with IDC's Worldwide Quarterly Mobile Device Trackers, in a prepared statement. "You could say the term 'phablet' is becoming less relevant now that most smartphones will ship with larger screens, and when folding screens start coming into play in the medium term, this screen trend will evolve in new directions."
Android's smartphone volumes are expected to grow at a five-year CAGR of 2.4%, with shipments approaching 1.41 billion in 2022, according to IDC, while selling prices will rise as well. Meanwhile, iPhone volumes are forecast to grow by 2.1% in 2018 to 220.4 million and are expected to grow at a five-year CAGR of 2%.
Image courtesy of flickr user Jon Fingas.