The telecom industry is accustomed to conflict. Recent battles have been fought over network platforms, apps, and the electromagnetic spectrum. And the next set of transformational battle lines are already drawn in areas such as home automation and connected cars.
As with past industry transformations, these are high stakes games and are being driven by powerful industry forces.  Many conflicts fly under the consumer radar for years, only to have an impact on millions – even billions – of consumers when new technologies are ready for market.
In this post, I thought I would take a look at some current low-profile but potentially high-impact battles involving mobile payments, user interfaces and the personal communications experience — including one that led to the resurrection of the 1990s app shown in the photo accompanying this post.
Google Wallet vs ISIS
Some readers may be aware of the battle of ecosystems playing out in the mobile payments space, but may not know some of the details of that battle.
First, a little history.
Mobile payments had their genesis in the 1990s when NTT DoCoMo in Japan began to equip mobile phones with the ability to pay for drinks and other merchandise in vending machines.  Yet it has taken 20 years for mobile payments to catch on in a mainstream way; even though Web-based payment platforms have been around since the late '90s.
Here in the US, Google Wallet will be fighting an uphill battle in the United States, given that three of the top four mobile providers have banded together to compete against it.  ISIS, the mobile payments joint venture of AT&T, T-Mobile USA and Verizon Wireless, began commercial launch in October  in Austin, Texas and Salt Lake City, Utah.  It provides a mobile wallet that allows payment from Near Field Communications (NFC)-enabled phones.  ISIS phone users can redeem store coupons and discounts that are mailed to their phones or delivered to a phone's Web browser.
"ISIS-ready" handsets must have NFC built in, which means that they must work closely with their suppliers.   Among vendors, Samsung, HTC, Motorola, Nokia, and RIM are already on board.  In a twist of irony, because many of these phones run Android, the ISIS payment app comes to users via Google.   Apple, meanwhile, does not offer NFC technology in the iPhone; putting a crimp in any iPhone carrier's plans.  Because AT&T has said that all of its future mobile smartphones would have NFC built in, Apple's hand may already have been forced in this matter.  Apple has also been a latecomer to support LTE wireless access.
There have been reports by Geek.com and DSL Reports that ISIS will not work on rooted (jailbroken) mobile phones.  Whatever the outcome may be – a single standard? multiple transactional ecosystems? some other outcome? – billions of dollars in transactions hang in the balance.
Patent wars over user interfaces
Another area of contention is in the user experience.  Microsoft has won both praise and criticism for its bold Windows 8 user interface and its mobile and tablet derivatives.  Say what you will about it, but it is a major break from the past, for which Microsoft deserves a lot of credit.  In November, however, an obscure company called SurfCast sued Microsoft for infringing on US Patent No. 6,724,403, a "System and method for simultaneous display of multiple information sources." The patent was applied for in 2000, issued in 2004; and cited many times by Apple, IBM, Oracle, and yes, by Microsoft.   Microsoft says the claim is without merit.
In August 2012, Apple was awarded a $1.5 billion victory over Samsung, when a US District Court ruled that Samsung had infringed patents relating to the "rubber band" effect in Apple's iOS mobile operating system, in which a scrolling page can 'bounce back' when the touch-screen user tries to scroll past the bottom.  In October, the US Patent & Trademark Office found that the "rubber band" patent was invalidated by two other patents: a later patent from the same inventor at Apple (!) and a European patent by AOL.
Nevertheless, the final outcome was not settled as of this writing.  These seemingly small things may carry a very large price.
The personal communications experience
Battles over the user experience are not limited to the look or behavior of the interface.  Sometimes they extend to core functionality.  One example is HTC's 2010 patent complaint, filed with the US International Trade Commission to bar Apple from selling iPhones in the United States.  After Apple accused HTC of infringing twenty Apple user interface patents, HTC turned around and challenged Apple over the iPhone's ability to place phone calls using an electronic database.  The case hinged upon two "dialer patents" – US5541988 and US6320957, which HTC asserted were their prior "art."  We use this feature every day: look up a contact name or a call-log entry, and press an icon to call.
TC was founded in 1997.  However, a 1980s alliance between Apple, Northern Telecom (later Nortel Networks) and Bell Northern Research co-developed a software product called Meridian TeleCenter, introduced commercially in 1990; which did the same thing described in the HTC dialer patent.  It created electronic phone directories and call logs that could be used to dial or return phone calls and to operate your voice mailbox using the point-and-click user interface of the Macintosh.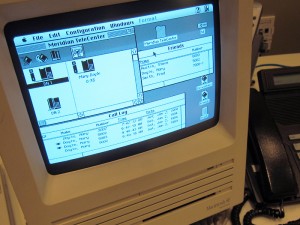 The Mac connected to Meridian PBX and DMS-100 central office switches via a serial connection option on Meridian telephone sets, enabling the application to exchange control signaling and status messages with the switch.  TeleCenter's successor, VISIT Video, was essentially a 1991 precursor to Skype that added switched-56 (kbps) data connectivity and a desktop videocam for point-to-point videoconferencing and screen-sharing.  Yes, this was also before ISDN, let alone the commercialized Internet.
As the alliance manager between Apple and Northern Telecom and member of the TeleCenter product team twenty years ago. I helped reconstruct this 1990 system for a demonstration aimed at proving that HTC's intellectual property was invalid.  It was not lost on us that this complicated end-to-end system was precursor to something that we can now carry in our pockets.  In November 2012, Apple and HTC arrived at a 10-year license agreement that includes these and other patents held by the two companies.  Terms were undisclosed.  As a result, there will be no ban on the US sales of iPhones due to this case.  The potentially multi-billion dollar remaining question goes to whether or not Apple and Samsung will ever be able to settle the many issues between them.
These cases go to show just how much happens below the radar in our industry, completely outside the general awareness of consumers; and how much of a financial impact they may have.