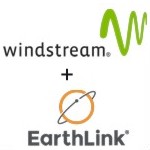 The $1.1 billion Windstream EarthLink acquisition completed Friday after the FCC officially announced its approval of the deal. Windstream Holdings shareholders approved the acquisition plan at an extraordinary meeting the same day approval was received.
"The combination will result in an extensive national footprint spanning approximately 145,000 fiber route miles and provide advanced network connectivity, managed services, voice, the Internet and other value-added services," management said in making a public case for the acquisition and merger back in 2016. "Customers will also benefit from combining Windstream's scale in the Enterprise segment and EarthLink's successful launch of SD-WAN."
Upon announcing the deal's successful closing, Windstream management said the combined company will realize savings of more than $150 million in annual operating and capital expenses within 36 months as a result of organizational synergies. That's $25 million more than had been projected originally.
Windstream EarthLink Acquisition Completed
"We are very pleased to announce the completion of our merger with EarthLink, which improves our competitiveness and ability to serve customers while increasing free cash flow and reducing leverage," Windstream president and CEO Tony Thomas was quoted in a news release.
"Our customers will benefit from our expanded national fiber footprint and enhanced products and services, including SD-WAN, UCaaS, network security, managed services and cloud connectivity."
Three of EarthLink's directors – Dr. Julie Shimer, Marc Stoll, and Walter Turek — will join Windstream's board of directors effective March 1. That will bring the total number of Windstream's directors to 12.